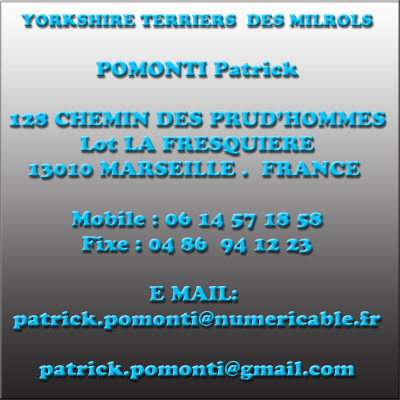 Bonjour, bienvenue sur notre site dédié aux terriers du YORKSHIRE.
3 nouveaux titres de champions pour le debut de 2018.
3rd new championships for the start to 2018.
_________
* Championat de FRANCE *
PARIS juin 2018.
Multi Ch: LIFE IS BEAUTIFUL DES MILROLS:
Nouvelle Championne de FRANCE.
CACS. CACIB. BOS.
BEST IN SHOW: Monografica MADRID avril 2018.
___________________________
Multi Ch: JARDIN SECRET DES MILROLS:
C A C S & BEST IN SHOW Nationale D'élevage
sur 165 Entrées.
Nouveau Champion de FRANCE
Best In Show in BULGARIA.
&
BEST In SHOW III in MAROCCO.
_____________
6 NOUVEAUX CHAMPIONS INTERNATIONAUX.
6th NEW INTERNATIONAL CHAMPIONS.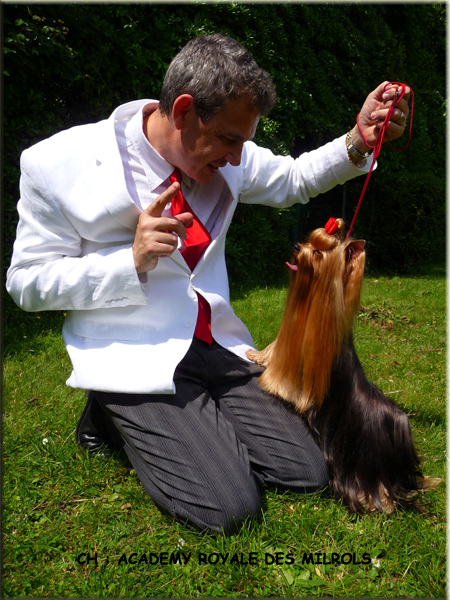 B I S S & Multi Championne: ACADEMY ROYALE DES MILROLS.
Championne INTERNATIONALE. Vice championne de FRANCE.
Championne D'ITALIE. Championne du MAROC.
Lice Recommandée ( IV ).
_______________________________________________________________________________________________________
__________________________________________________________________
______________________________________________________